How to choose a caravan awning side wall, privacy screen, end wall?
December 3, 2020
Caravan Side Wall, End Wall, Privacy Screens
Caravan Side Wall, End Wall, Privacy Screens is a highly competitive market, with a huge price and quality range from below $50 to almost $200 a set.
The price difference isn't just a number. To compare and get the best value for money purchase, the material used, design & features, and accessories included are all factors of cost variation.
Some go for a cheaper option by assuming all privacy screens on the market place are the same. However, they are very different. "You get what you pay for" is always valid & true when comes to purchasing.
For newbies in Caravaning, here is some information for your reference when choosing your privacy screens.
What is an awning side wall, end wall, privacy screen?
Basically, privacy screen, sidewall/side shades, and end walls, they are referring to the same thing. It is an optional shade attached to caravan awning by rope track.
Rope track size varies between brands of the awning, mainly 5mm track and 7mm track.
The main purposes of the shade are blocking sunlight/heat and provide privacy when resting under the caravan awning/annex area.
Types of caravan side wall shades
Mesh Screen – mesh material made from 

HDPE (High-density polyethylene) 

and PE(polyethylene) Whilst, by using HDPE, especially virgin HDPE rather than recycled HDPE, it is more durable under Australian weather condition.

PVC coated Oxford – lightweight waterproof materiel which can prevent rain from leaking through
Caravan Shade mesh materials & color
Choosing mesh type or waterproof type depends on your usual application. Here are some points of comparison between mesh shade cloth and oxford shade cloth for your considerations:
Mesh shade

 allows wind to blow through, release pressure from the wind. PVC coated Oxford, however, acts like a sail, catch all the wind pressure. If you frequently camp in windy areas or seasons, a mesh shade would be more ideal.
PVC coated Oxford

 stops rain from leaking into the annex area. However, it catches wind causing great pressure on D-ring stitching and pegs. Another drawback is that it is not breathable.
In general, the majority of users are going for mesh type of caravan side walls rather than waterproof Oxford shades.
Design & Features
Design & features of off-the-shelf caravan privacy screen vary from brand to brand. Following are some common differences in terms of design and features:
Sidewall drop


Many available caravan privacy screen is 1.8m drop which is rather short for many modern caravans, especially offroad type. We aware of this and offer an extended drop of 1.9m to provide better cover for the modern caravan sidewalls



Kedar


Rope track is the common method to attach a sidewall with caravan awnings. However, different manufacturers of caravan awnings have their own specifications of rope tracks.

Some awnings come with 5mm track, some 7mm.
We make dual kedar in our caravan privacy screens so that users do not need to worry about the brand of the awning. Our caravan privacy screens fit the majority of the awnings.
Side D-rings
Years ago, caravan sidewalls come with bottom edge D-rings only, for securing and stretching the awning side wall with pegs. Our caravan shades provide D-rings on 3 sides, bottom, left, and right side.
Side D-rings allow users to secure privacy screens with guy ropes on windy days, or simply using them for attaching the screen to awning supporting legs.




Because D-ring will take great pressure when tension the shade, or, in windy days, D-ring reinforcement is critical to ensure stitching withholds the tension. We reinforced D-ring with a triangle patch so that more area shares and relief the tension, prolong the life of the shade.

Pegs
Traditional tent pegs are simple metal "7" shape, or more recent design with plastic, angle bend, hand screw pegs, etc.
Our shades all come with galvanized screw pegs, where user can simply screw it into clay soil easily with a cordless impact drill, which many campers will carry one with them these years.


Free spinning design making it very easy for the user to screw in down by holding the plastic molding hook.


Furthermore, the plastic molding hook section of our pegs is glow-in-the-dark. This is a great feature when campers can see pegs clearly in the dark, avoid tripping over by kicking on "invisible" pegs. Save your toes.
Strength & Durability
Despite this is not an expensive item comparing to caravan cost, users still wish it durable and long-lasting to get the best value out of their purchase.
We use 220g Virgin HDPE UV stabilized mesh material, not cheaper 180-190g, or recycle HDPE. This ensures our caravan shades are strong and durable under Australian harsh weather conditions.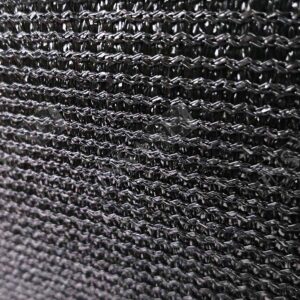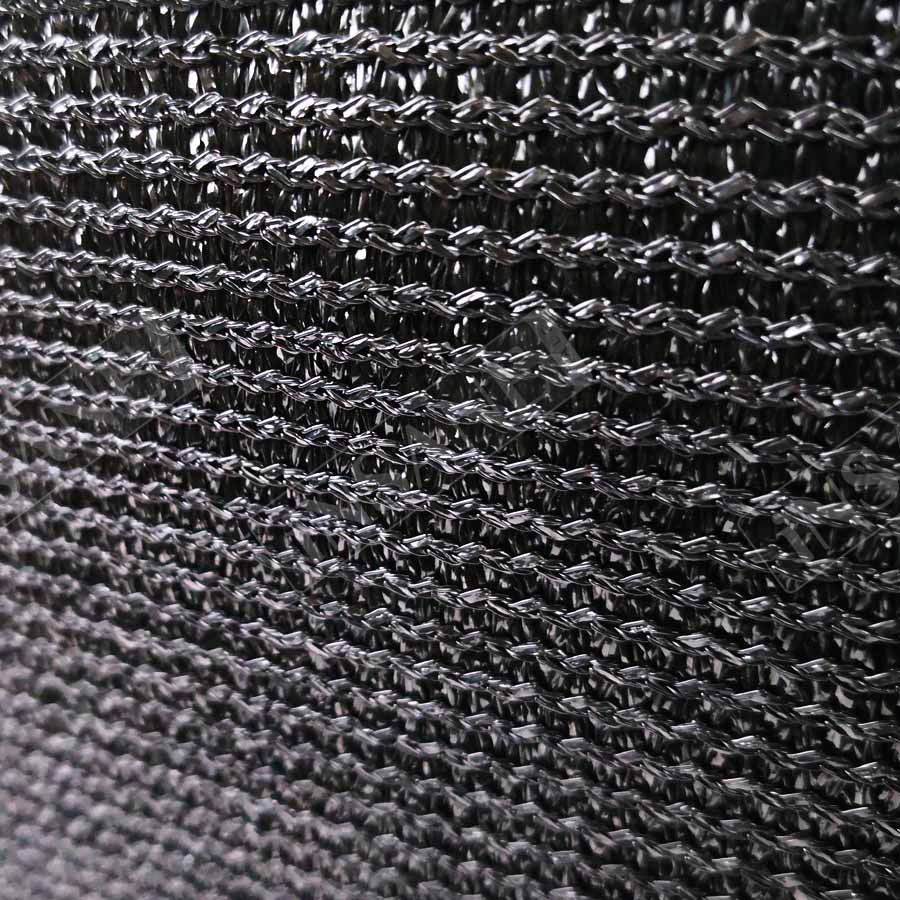 Does Color matter?
It is debatable that silver/grey color shade will reflect radiation, while black shade will absorb heat.
This is a confusing understanding. To be able to reflect UV radiation, material needs to be reflective, eg aluminum foil. Radiation reflection is very minimal if mesh material is just silver-grey in color.
Many had done dummy testing with black shade and grey shade. There isn't any significant temperature difference in the ambient of the shaded area, or the shade itself.
Thus, color is merely the users' personal preference.
Where to Buy RVSUNSHADES Caravan Privacy Screen & End Wall
We offer caravan side walls length from 2.8m suit 10ft awning, all the way to 5.5m to suit 19ft awning. Please visit our caravan shades section and select one to fit your awning.
Angle Cut End Wall (V1) 2350/1900mm, 2150mm wide (Velcro Attachment only)
Angle Cut End Wall (V2) 2350/1990mm, 2150mm wide (Velcro + 6mm spline)
---
Baby Car Shade / Car Sun Shade | Caravan Privacy Screen Side Wall | Car Trunk Organizer
Follow Us: Facebook . Instagram .Twitter . Pinterest . YouTube . LinkedIN