Description
Offroad Caravan Motorhome Angled END WALL
2650/2200 x 2150mm Reversible
Shade Dimension
 2650/2200mm (Height) x 2150mm (Width)*  Angle Cut
Shade Rating
95%+
Screen Material
220 gram (not cheaper ones under 199 gram material)
Shrinking Factor

Longitude 0.04-0.06; Latitude 0.01-0.03

Color
Black
Attachment
6mm spline + Velcro straps
Compatible
– AussieTraveller Anti-Flap bar
– Generic brand Anti-Flap bar
– Sail track size between 7-10 mm diameter
* Universal size to best suit most scenarios.
A reversible design can be used on either end of your awning.
What's Included:
2650x2200mm, 2150mm wide Caravan Awning End Wall Black

6mm Spline (suit 7-10mm sail track) + Velcro Straps Attachment for awning bar
Pegs & Ropes pack
Clear PVC Carrying bag
The caravan end wall is made from 100% virgin High-Density Polyethylene (HDPE), 220gram (not cheaper 180-190gram, or recycled HDPE shade). It is stronger and more durable than ordinary possibly recycled polyethylene (PE) shades, caravan privacy screen you may find.
This end wall has 2200mm drop on the short side to match our sidewall. The long side is 2650mm fits many caravan awning setups.
It can be fitted on the front side or backside, reversible, with no left or right difference.
The standard package comes with velcro straps on the top edge to fit on the awning arm, inner edge height 2650mm, outer edge height 2200mm, width 2150mm, stainless steel bottom & side D-rings, safety glow-in-the-dark screw pegs that allow the user to screw down pegs with cordless impact drill, visible at night time, and with clear carrying bag.
All the above-mentioned great features are totally INCLUDED in our standard package at no extra cost.
Superb Features:
Virgin HDPE 220 gram, strong and weather-resistant, durable material, not ordinary/recycled PE under 200 gram.
The top edge comes with 6mm spline + velcro straps to attach to anti flap bar
Glow-in-the-dark galvanized screw pegs, easily seen in the dark camping sites and outdoor, are a great safety feature. Pegs have hex heads for cordless impact drill to drive pegs into hard/clay soil easily
Stainless steel side D-rings, provision to secure shades in windy days
Reinforced D-ring stitching base patch for durability
D-rings on LHS & RHS, and bottom edges
Hemmed edge all around the shade
Ropes & Safety Glow In The Dark Pegs included
Hand carrying clear plastic zipper bag is provided for storing caravan shades neat and clean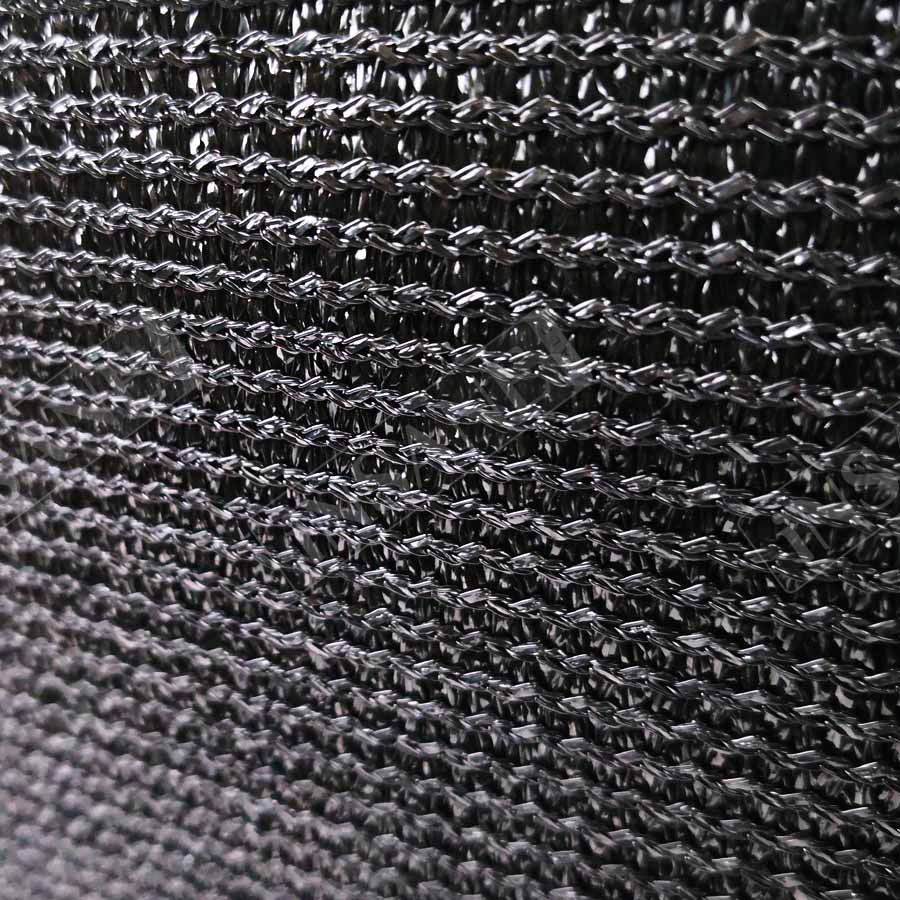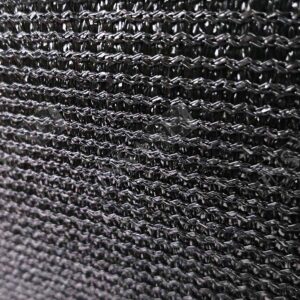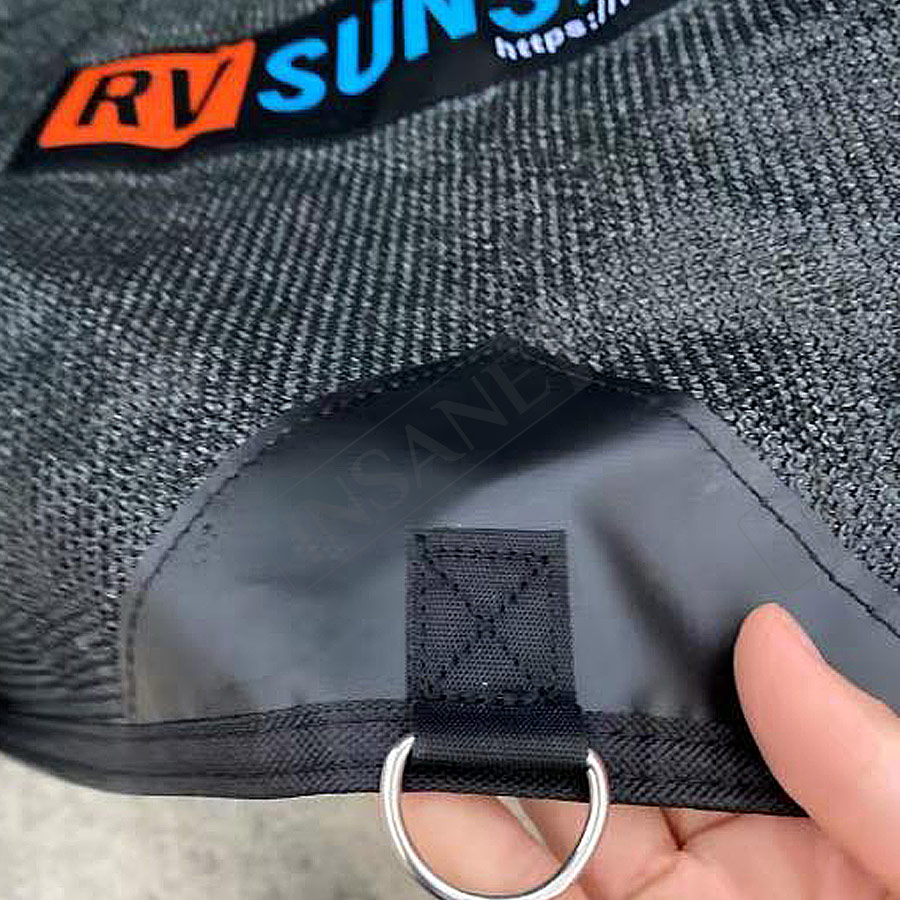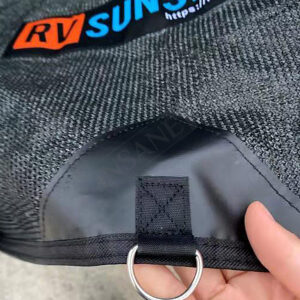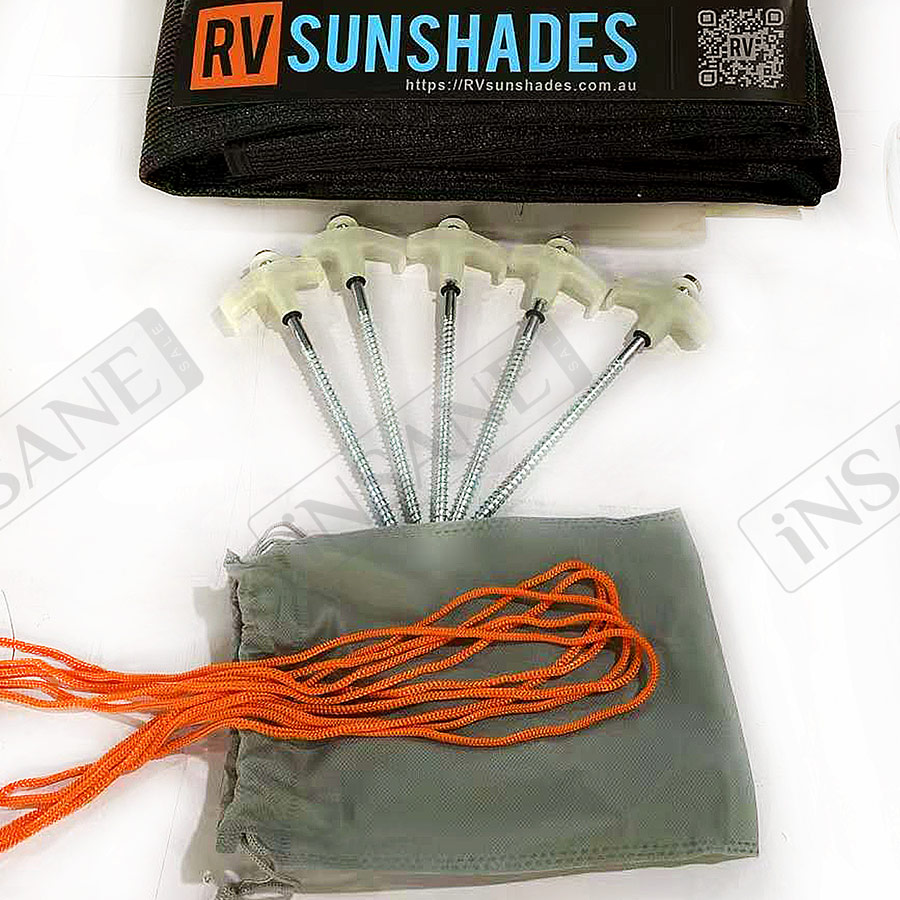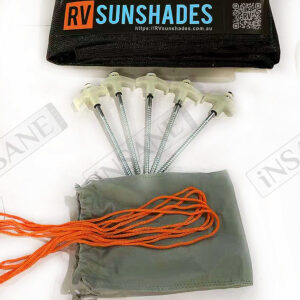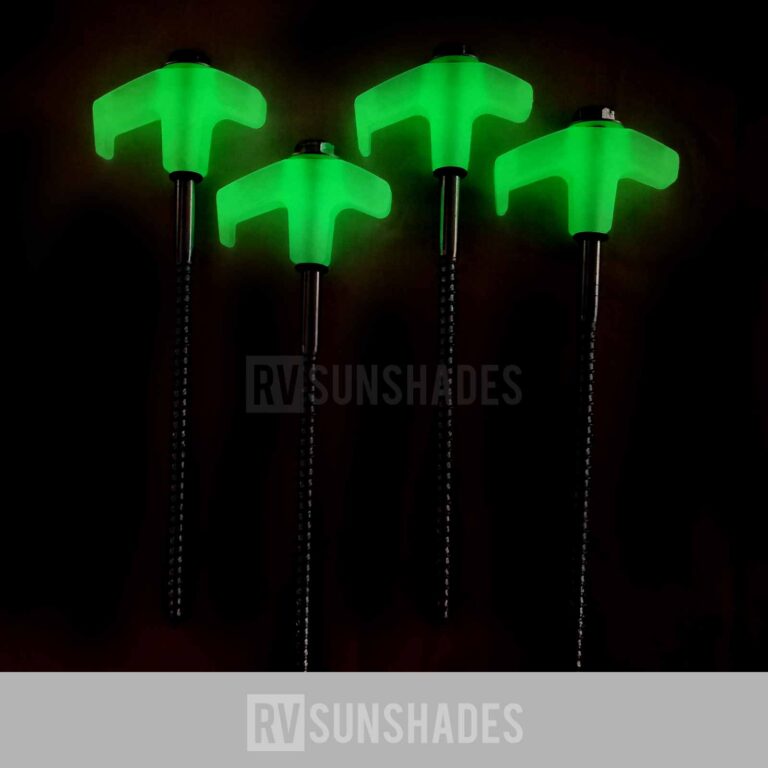 Why are our shades much better than other competing products?
Virgin HDPE Material
Our caravan motorhome shades/privacy screens are made from 220g virgin HDPE (High-Density Polyethylene). HDPE is more durable and stronger than normal shades made from PE (Polyethylene) fabric. Furthermore, we use virgin HDPE, not recycled materials.
Velcro Straps on the top edge
Flexible to tie end walls on awning arm
Glow in the dark screw pegs with hex head
Glow in the dark screw pegs with hex head, free spinning. These are the most advanced and safety-concerned pegs you can find. Glow in the dark rope hook ensures people see the pegs while walking at night time. Hex head allows the user to use a cordless drill to screw pegs into hard soil much easier. Free spinning hook prevents hook spinning like crazy when using a cordless drill to screw pegs into the soil.
An extra drop of 2.20m allows you to set up the way you want to, vertical straight, or in angle, more flexible than a 1.8m drop. Perfect match with our caravan privacy screen awning sidewalls.
Stainless steel D rings all-around 2 sides and bottom edge, secure the screen from flapping on windy days
Hemmed edges are just another standard in our products.
Why should buy Awning End Walls from us:
We sell only premium quality products, not cheap copies.
Our automotive & RV products are made from top-quality materials and experienced workers.
All sunshades are manually quality checked before packing into a premium packaging box.
No Hassle return and refund, including change of mind (refer to return policy)
We have a clear physical address where you can check before purchasing or buying over the counter.
CLIMATE CONDITION WARNING:
Caravan awning side walls compatible privacy screen shall be removed and stored away on strong windy days. It is true that privacy screens allow a breeze to go through.
However, due to the high density of shade cloth, the privacy screen will catch significant wind pressure under strong wind, which could cause damage to the privacy screen D-ring anchor points. Allowing privacy screen flapping under strong wind will also cause damage to the shade.
Please note that damages resulting from wind are not under warranty cover.
---
*images are for reference only
Annex End Wall | Block UV & Direct Sunlight | Extra Privacy